Sufjan For Christmas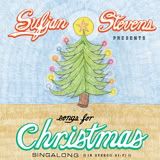 As you may or may not know
I am a huge Sufjan Stevens fan. His musical genius has enveloped me since that fateful day in the early spring of '05 when Allison Owenby handed me a mix c.d. with him and Iron and Wine on it. So this post is for anyone who might happen to be a fan of this incredible artist.
Sufjan is releasing a five c.d. Christmas box set.
It will have stickers, an essay by Rick Moody (I have no idea what that might entail) and a family portrait of Sufjan painted by by Jacques Bredy. You can read all about it here at the
Ashmatic Kitty
site and you can download two of the new songs here at
Gorilla vs. Bear
.
I suggest listening to Sister Winter on repeat while watching rain soak the cold Fall ground.