Out In The County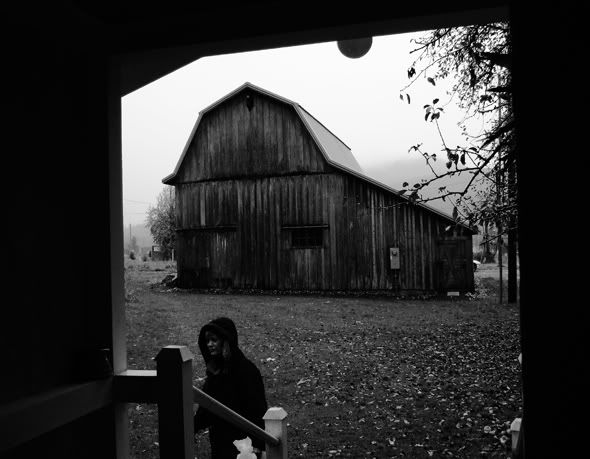 I wake up in a very "fuck all of this shit" kind of mood.
It's not the rain, the lack of work to be found (and conversely money to be made), the lull in good conversation to be had or the fact that I loathe my camera and have descended into some kind of valley where creativity is no where to be found.
No, it's none of these things. Or maybe it's all of them. I'm not really sure yet. At this hour I am only sure of two things; my hands are shaking from the caffeine intake and my stomach is trying to tell me man cannot live on coffee alone.
Then there's the ten o'clock train.
I can hear its whistle in the distance. Steel on steel pushing north through the rain.
Since that's all I can tell you about today, let me tell you a little about yesterday.
Linda takes me far from home.
We drive "out in the county". This is local speak for any place located more than a couple of miles from downtown Bellingham. "Out in the county" is beautiful. She lives on an old homestead way down Mt. Baker Highway, not too far from the great volcano itself.
Upon arrival I meet Suzy, a somewhat ornery Dalmatian mix that never quite settles upon whether I am friend or foe. After a conversation about Michael Crichton's recent passing and what it means to Linda (for three glorious years Linda dated Michaels younger brother, Douglas) I meet the amiable yet guarded Don. He is one third of the remaining Mitchell clan that live on 40 acres of land his great grandfather homesteaded back in the mid 1800's. The signs of what once was a dairy farm are rapidly returning to the earth from whence they sprang. Roofless barns and outbuildings tell the story of a hundred winters past.
Don, his twin brother and their aging father
have lived here all their lives. Linda's told me the story of their mother; it's a tragic one that has changed the course of the brother's lives. I dare not ask about this story while talking with Don.
We spend a couple of hours enjoying each others company; eating, laughing, smoking cigarettes on the tiny front porch that shelters us from cool fall rain. This is a very humane interaction, one where the humans and their stories are the main act.
Then it's time to leave.
Linda fills a plastic bag with apples from the tree next to her house. The apples are a gift for me. I am great at receiving gifts, not so much at giving them.
On the way back home the conversation turns toward creative ruts. Linda tells me she's written a few novels. Their lack of widespread recognition (a.k.a. being published) does not diminish their importance; these manuscripts are brought to life by the writer, not the publishing house. She then tells me it's been over ten years since she's written anything.
I am reminded that true creativity,
and the manifestation of it, cannot be forced. It does not follow the mandates of a production-obsessed culture. No, it seems to come and go with no regard for the changing seasons that pile up between it's last visit and the next. It is a good friend, but one that makes no excuse for it's comings and goings.