Sanity Amongst The Concrete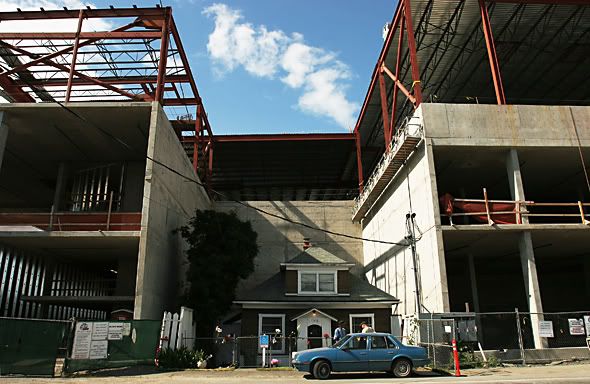 Edith Macefield died on Sunday.
I never met her and all I know about her is what an
article
in the Seattle P-I has reported (thanks for the link
Megan
). She owned a house in Ballard, my favorite Seattle neighborhood, and refused to sell her home to developers even when they offered her a million dollars. She wanted to be left alone and to die in the house she'd lived in for over 55 years.
So the developers did what developers
often (but not always) do: push on with their project because any "sane person" understands that "progress is inevitable". To bad most developers version of
progress
involves characterless boxes designed to be built as quickly as possible so they can get their money and go onto the next neighborhood or city, leaving a trail of shoddily built communist block condos and townhouses in their wake.
They don't live in these neighborhoods.
They don't have to shop in or walk past these hovels. A neighborhood is a living entity. Take away its human sized, character filled homes (and the people who live in them) and you take away its humanity, its history.
As white people in America begin their migration
from suburbs to cities you will see these massive upheavals of old city neighborhoods being razed to make way for a much more "conducive environment" for these skittish suburban transplants. White folks from the 'burbs are used to characterless houses, box stores and uniform shopping, dinning and entertainment experiences.
They don't care if their apartment
is nothing more than a miniature version of the house they moved from, if anything all that sheetrock and forced air brings them comfort (since it's the same shitty materials and ideas being used to build their condo as was used on their suburban house).
This is how America deals with change:
either we utterly abandon it (think towns and cities in what is now called the Rust Belt) or we plow over anything that would hinder our insatiable march forward (anything historical included).
What a sad people we are
and an even sadder people we will soon be. When Edith's generation, a generation that lived through two world wars and a great depression, are gone who will be left to explain to us that money, and the blind pursuit of it, will never give us what we want?
Edith didn't want the stack of bills offered to her because she had something that money simply couldn't buy: the ability to be content.