Look...new pants!!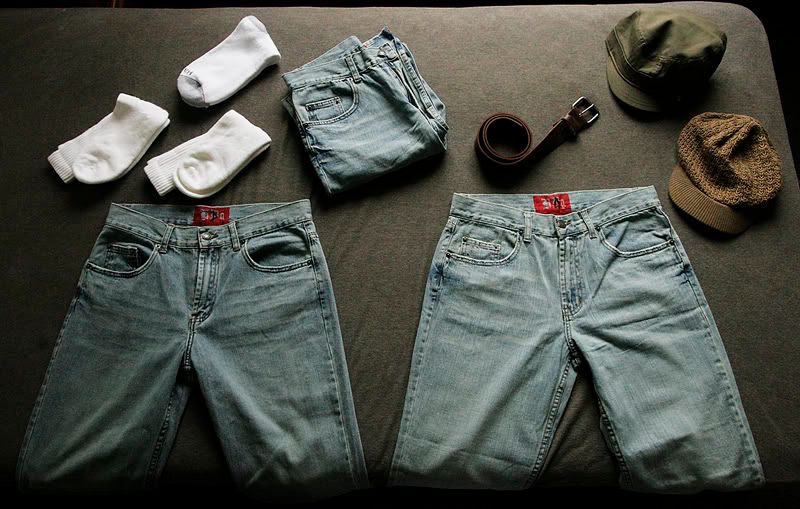 No, I did not go clothes shopping.
Actually now that I think of it I've never bought clothes for myself. Its always been mom buying me school clothes or Katie buying me clothing in exchange for a photo session or someone feeling bad for me because my clothes look so ratty. I'm not big into fashion nor being fashionable. I've just always had better things to spend my money on
besides clothing
. Recently though I have had no one willing to buy me pants or a new belt, so I just wore the same pants my dad passed onto me a few years ago and the same belt I bought two years ago before starting work as a Dominos pizza delivery guy.
The only problem was
that I wore giant holes in the knees of both pairs of pants (I'm on my knees a lot when shooting photos like
this
) and the belt was literally hanging on by a thread.
So today as I was visiting Jeff at the Bread of Life
I mentioned that I was in need of some jeans. The Mission keeps a small clothing donation bank in the basement of their building and I been given t-shirts from there before. Much to my surprise and joy I not only was given three pairs of brand new Urban Outfitters jeans (they're worth $50.00 a pair!) but also a belt, some socks and a few uber trendy hats!! I was so excited when I got home that I had to take a shot of all the items I was blessed with in an effort to share the experience with you.
In all of this I am reminded of two things.
First, the verse in Matthew 6:25 when Jesus says,
"Therefore, I tell you, don't be anxious for your life: what you will eat, or what you will drink; nor yet for your body, what you will wear. Isn't life more than food, and the body more than clothing?"
and secondly that I live in an over-privileged country that has so much it has too give away or throw away the excess. I'm glad they decided to give it away this time.