Sams back!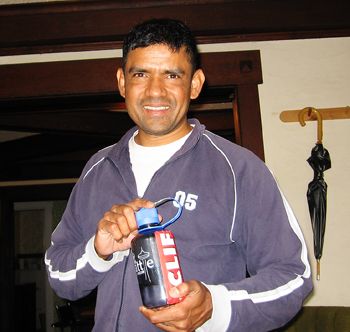 This is Sam. Tomorrow he comes home to Seattle from his long (8 months) journey around the world. Seriously, this guy has traveled from Seattle to Las Vegas, Paris, Pakistan, New Zealand, and Australia, back to New Zealand and finally back to Seattle!
He has spent that time teaching, helping, and leading DTS's in all of the above said locations. I miss Sam immensely. We worked together with Youth With A Mission Vancouver three summers ago leading a summer program they run called Mission Adventures.
Summers in the Pacific Northwest are amazing. The rain that usually hangs over the cities goes somewhere else and the sun warms everything up making for just gorgeous weather. All of the pasty white people attempt to bask in the rays of their new found friend, the sun, and always end up looking foolish and awkward while attempting it. You will inevitably have a good number of folks walking around in shorts with Tiva sandals strapped on tight over their navy blue socks.
Whoa, just became super distracted as I wrote this. I didn't mean to go off about summer for an entire paragraph. It's fairly late for me as I write this so I apologize for any inconsistency in subject matter.
What I meant to write was a tribute to the homecoming of a good friend of mine. Sam is one of the most servant-hearted people I know. Sam is such a good friend that sometimes I wonder why he is my friend. I put so little into our relationship but get so much out of it I almost feel guilty sometimes. He is constantly asking me if I need anything, he has literally given me the shirt off his back at least a few times. Sam takes note of everything and doesn't hesitate to ask me how I'm doing when I'm having a bad day. Sam always knows when I'm having a bad day.
So here is the most overused statement that I'm sure you here quite often but I really mean it when I say that it is a real blessing to know Sam.