Looking For Change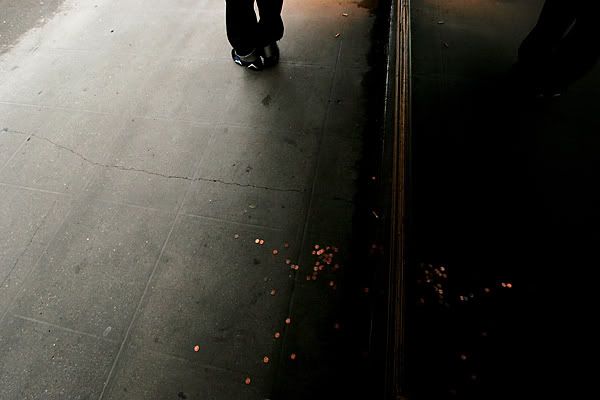 Me:
I wanted to tell you something before I got off the phone; this Friday I went to an Obama rally in Seattle.
Dad:
I think he's the Anti-Christ.
I pause before responding
into the small cell phone receiver. It is in this pause that I realize where my political extremism might stem from. This is not the first time I have had this realization. It certainly will not be the last. I decide to ignore the statement my dad has just made for two reasons:
1. I know that my father is a wise man and as a result does not really believe this statement.
2. My dad is not only a Fox news junkie but also listens to certain talk radio hosts who tend to lean more toward a discourse of fear and hatred than one of rational thought.
It is because of this knowledge
that I do not hold statements such as "I think he's the Anti-Christ" against my father. This is not a notion he concocted on his own. It was fed to him in the same way that the liberal media feeds me everything I believe. At least that's what people tell me.
Let it be known that my father is a good man
and that I am in no way trying to discredit his goodness by relating this story to you. If you're reading this dad know that I love you and am only writing this story for the entertainment value that is inherent in politics in general.
I went on to tell my father of how there were
so many people at the arena they had to turn thousands away. I was one of nearly 18,000 who made it inside the arena, perched so high above everything that the speaking platform looked small enough to fold up and fit inside my pocket. Obama came out, after 2 hours of waiting, and delivered a tired sounding speech about hope and change. Something I suppose we all could use a little more of.
Tim, reformed southern and good friend of mine, and I left before Obama could finish. We were hungry. Hope and change would have to wait until after lunch.
As we walked from the crowded arena
past the Space Needle and down wet streets I talked with Tim about the rally. I talked with him about how I was reluctant to believe much of anything that came from not only Obamas mouth but any politician in America. I told him that the distance between the promises made from that platform to the cold streets we walked down was rarely bridged by any politicians lofty promises of change.
And perhaps I am wrong in thinking that politicians should be the ones to help bring about change. Perhaps my expectation of them has been ill perceived.
Either way,
I know that the only change I saw on the streets that day was scattered on the ground beneath a department store awning.

Or maybe there was something else changing and I was just too jaded to perceive of it.